Academics
Chinese Literature Center for foreign students language study
Founded in 2013,Chinese Language Center(CLC),Soochow University is a government-recongized center for teaching Chinese as a foreign language training program. "To transmit Konwledge of Chinese Culture And Cultivate Chinese Language Skills". CLC aims to provide professional programs for those who would like to explore Chinese language and Taiwanese culture.

School of Liberal Arts and Social Sciences: Characteristic Brands Project
School of Liberal Arts and Social Sciences includes 11 academic departments and teaching divisions in 3 areas of humanism, social sciences and performing arts, is the largest school of Soochow University. The development of the school aims at 2 directions: to set up academic performance platform of liberal arts and social sciences; to develop interdisciplinary program, to enhance students' competiveness. The school currently has 2 integrated research projects: "Middle-east European Social Issue Studies" and "Knowledge, Power, and Social Practices," and we wish to raise fund for the two research projects, so that we can publish our research results in domestic and overseas conferences or periodicals. To develop students' interdisciplinary academic ability, the school sets up "Program of Human rights," "Program of Creative Humanism," and "Program of Non-profit Organization Management," in order to offer our students with multi-learning courses and environment.
School of Science: Fundamental and Development Project
→ English Website
School of Science has 5 departments: Department of Mathematics, Physics, Chemistry, Microbiology, and Psychology. Teaching and research of school of Science emphasize: equal emphasis on learning and practice, and small grouping in experiment and internship. The fund is raised for meeting the needs to establish good relationships with clinical and counseling organizations outside the campus, to provide students with internship environment, and to promote departments to do international research; furthermore, to cultivate students with cultural temperament and scientific knowledge.
School of Foreign Languages and Cultures: Development fund for foreign language school  
→ English Website
School of Foreign Languages and Cultures consists of three departments (Department of English Language and Literature, Japanese Language and Culture, and German Language and Culture) and a Language Center, which is responsible for general English courses and program of practical English. The school aims at familiarizing students with foreign languages and cultures, wishing to develop them with self-learning awareness. This fund is raised for holding"Teaching and Research Workshop," which aims at elevating teaching quality and sharing research achievements; holding international or domestic conferences, and publishing "SCU Foreign Languages Journal" and "SCU Japanese Education Journal." The fund will also be used for subsidizing students for short-term studies abroad (6-12 months), to expand students' international view and understandings of foreign cultures.
School of Law: from A to A+
→ English Website
School of Law is well-reputed, in many polls, department of law ranks the top one in private universities, and number three among all the universities. "From A to A+ Project" aims at strengthening cross-strait interaction in law, reinforcing academic cooperation, and promoting law ethnics and extension plans. In the future, we hope to cultivate students as law specialists with international view by increasing library quality and enhancing teaching facilities.
School of Business: to make School of Business into the Palace of international management
→ English Website
In 2007, School of Business set up academic interaction contract with Thunderbird School of Global Management, hoping to make the school as the palace of international management. We propose three plans: "increasing courses of international management program," "developing students into outstanding business leaders," and "building finance center."
Special funds for every department
We have 22 departments, and the fund will be used as scholarship, expenses for improving teaching equipments and conducting academic conferences and publishing periodicals.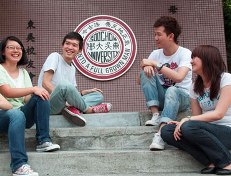 |Goto Top |